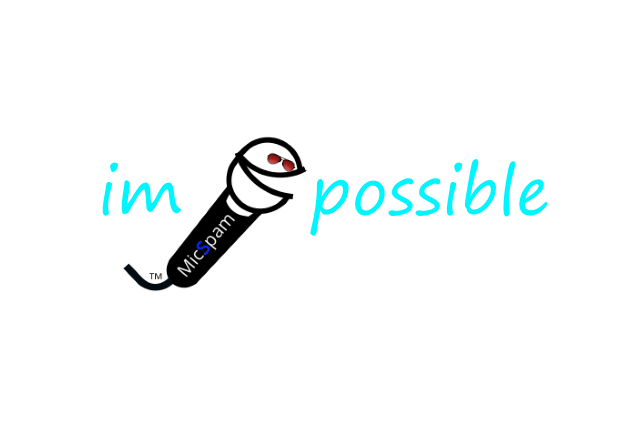 What's that? Transmit audio through mic without a mic? Call me crazy, but here's how you can do exactly that by using what's referred to as virtual microphone. It's fully free to set up and use, so follow along to see how you can get one yourself. Tutorial is for Windows based systems. There are options for Linux and MacOS too…
What Is A Virtual Microphone?
Virtual microphone is usually just an audio driver that has an input and an output. To put it into perspective, a real physical microphone has an input, audio signals coming in, and an output, audio signals going out, too. It's really that simple.
So the next question has to be: where do we get such an audio driver? There are standalone versions of such a driver and then there are built-in versions of such a driver. Let's take a look at the standalone versions only, no need to make things more confusing.
What Is Virtual Audio Cable
It sounds counterintuitive, but this virtual audio cable is actually an audio driver that acts as a virtual audio cable. It has an input and an output. Connected to some audio source, the audio singals go in and then go out into some other program, such as a game's or voice application's voice chat.
The cable's output acts like a microphone. Whatever we choose as the cable's input is played through the output, a virtual microphone.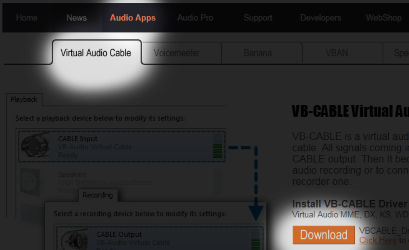 I've now explained what it is from many different angles, but here's where you can actually get one:
For Windows: VB-CABLE Driver (link opens in a new tab, links to the download page). You hit download, then unzip it and run the setup to install it. It asks you to make a restart after you've installed it.
For MacOS (and Linux): Soundflower (link opens in a new tab, links to the download page). Initially developed and maintained by Cycling 74, its maintenance was dropped. Luckily, the original author, Matt Ingalls, picked it up.
For Linux: Jack Audio (link opens in a new tab, links close to the download page, I'm not sure) Well, this is awkward. I've never used Linux and I have no idea how to actually download it because of that. As a Windows user, I'm not sure what I'm looking at. Sources say that that is the download location. Sorry and good luck!
Now we have a virtual audio cable installed.
It's time to set it up and use it.
How To Set Things Up (Windows, 3 steps)
Step 1
Open Sound settings.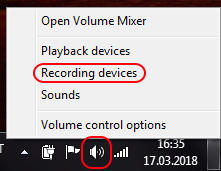 ---
Step 2
In Sound settings, one at a time, under both Playback and Recording tab, right-click in the window and tick Show Disabled Devices. Then enable CABLE Input and CABLE Output. Oh, and in case you have some weird mic like I have in this picture below, either disable this weird mic or at least make CABLE Output (virtual microphone) the default device.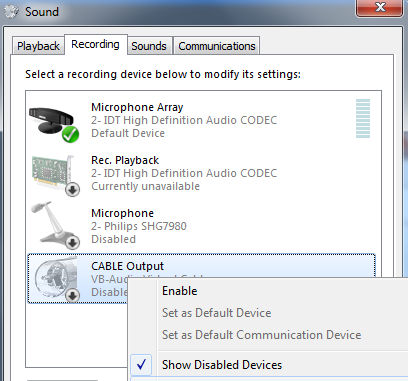 Just imagine that the real microphone isn't there.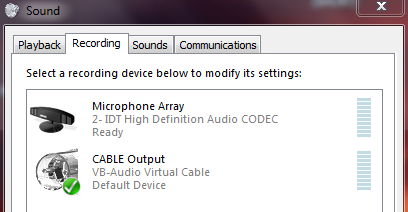 Just imagine that the real microphone isn't there – I forgot to disable it – because this tutorial is all about having this virtual mic without having a real mic.
---
Optional step
Chances are you want to hear what goes through the virtual mic. If you skip this "extra step", the sound will go through that  virtual mic BUT you won't be able to hear it yourself. So… tick Listen to this device if you want to hear the sounds that go through the virtual microphone (make sure it plays back to your speakers if you want to hear it – it will still play through the mic at the same time).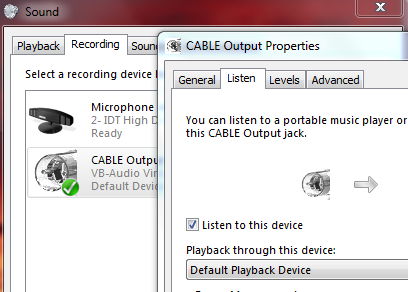 Uh, ehm… ignore the real mic.
---
Step 3
All we have to do now is select an audio source for the CABLE Input (and make sure the voice application is using our virtual microphone (CABLE Output) in case you have some weird extra mic and you didn't want to or simply forgot* to disable it).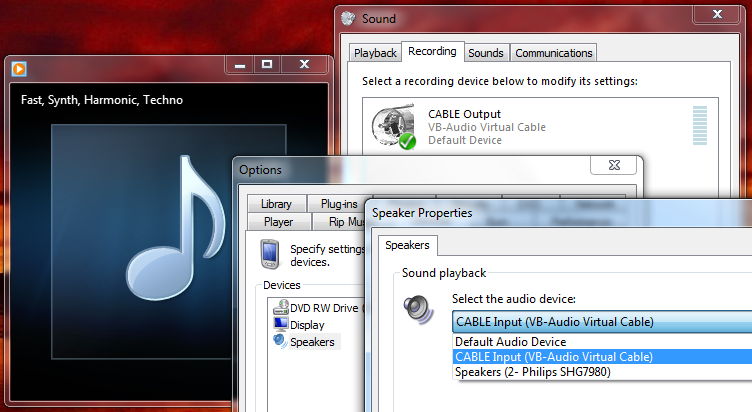 In this picture above, I used Windows Media Player as the audio source for cable's input. You can use ANYTHING as the input as long as the audio source is configurable in a similar fashion.
DONE
Let's Test This Out?
start up the voice application you want to play music or sounds into (be it a game, Discord, Skype, etc) and hit play on the audio source (Windows Media Player, etc).
If you ticked Listen to this device in the CABLE Output propery settings during the Optional step, then you should be able to hear the music yourself while it plays into the voice application(s) you chose.
Alternative Method For Playing Music Through Mic Without A Mic
If you want something more verstile, you can try fiddling around and slightly rearranging things to make it work the way you want in this method: How To Play Music Through Mic Using Voicemeeter And A Soundboard (links to another tutorial post).
It's more verstile for a reason. In the tutorial, a real mic is used, BUT you can totally leave the real microphone out of the picture and still use it without having a real mic at all. That one is making use of a soundboard, so you can trigger sounds with hotkeys. With this current tutorial you just read on this page right now (not the linked one), the audio has to be started manually.
---
I had you try out this tutorial first because I wanted you to learn how it's all done so you don't have to follow tutorials step by step all the time but configure something yourself. You can plug an AI Chatbot into this system by its butt if you wanted to, assuming you found such an open source chatbot AND that you've read all this wall of text and learned to configure stuff yourself by reading it all. It must've been tempting to skip parts of this tutorial, I know.